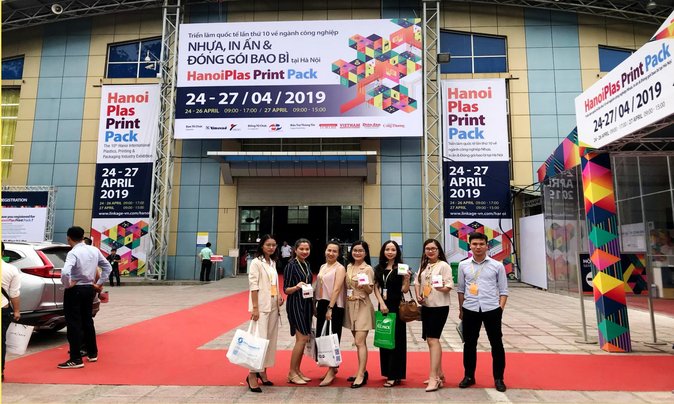 NHAT HUY GROUP MEET STRATEGIC PARTNERS AT HANOI PLAS PRINT PACK
07/26/2019 01:04:00
Posted by Lâm Huệ
(1) comment

The 10th Hanoi International Plastics, printing & Packing Industry Exhibition. The biennial Hanoi International Plastics, Printing and Packaging Industry Exhibition (Hanoi Plas Print Pack), will come back in its 10th edition and run on April 24-27 at Hanoi International Center for Exhibition (I.C.E). The exhibition is organized by Ministry of Industry & Trade - Vinexad National Trade Fair & Advertising J.S.C, Yorkers Trade & Marketing Service Co., Ltd. and Vietnam Plastics Association.
Comprehensive exhibits covering all manufacturing aspects

Nhat Huy Group always try to provide high quality products and best service to customers, constantly changing, applying the advancements of science and technology into the production process, improving the professional skills of business associates to meet the increasing demand customers are target that Nhat Huy Group aims in 2019
Hanoi Plas Print Pack 2019 gathers all exhibits for every production aspect. For the plastics processing sector, Toyo and De Paauw will exhibit various high-quality and recycled plastic raw materials, while Chyi Yang, Aoxiang and Polystar will showcase multiple layer film blowing machines. For packaging equipment, Hemingstone and Chao Wei will display diverse bag making machines for different applications. In terms of printing, Truong Thinh will bring German brand - Leibinger ink and Queesense will highlight the aniline printing machine suitable for printing polyethylene, cellphone, reel paper and other packaging materials.
Bright industry and market development prospects

According to Mordor Intelligence Research, the Vietnam plastics market is expected to register a CAGR of 6.63% during 2018-2023, and injection molding technologies and machines are expected to command the largest share of the market as they are adopted to manufacture a variety of thin-walled plastic parts for housing appliances, consumer electronics, automotive dashboards, etc. Packaging, automotive, electronics and other industries are also expected to drive further development of the plastics market in Vietnam over the forecast period. The Vietnam market is believed to boast great growth potentials as such big-name brands as FOXCONN and SAMSUNG and many other renowned brands have moved to increase investments and build new plants in Vietnam.