Don't miss the special promotion for Bangladesh market: pipe fitting applications, shoe sole applications, cable & wire applications. Find all the information here about our PVC compounds in Bangladesh.
Are you looking for a high-quality PVC Compound?
You're in luck! Visit our booth at IPF BANGLADESH 2023 and GET A 200 USD DISCOUNT FOR YOUR PURCHASE OF OUR PVC COMPOUND*. You'll also get a free sample and the best technical advice from our experts. Plus, don't forget to grab some Vietnamese coffee and cakes while you're there!
*Discount only applies to 10 first purchases made at our booth at IPF Bangladesh 2023
DON'T MISS THE SPECIAL PROMOTION FOR BANGLADESH MARKET!
Green PVC has been in the business of exporting PVC compounds for over a decade. We have established a solid customer presence in many major global markets, including Bangladesh. This market represents a significant portion of our customer base.
With an annual output capacity of up to 20,000 tons, we have established ourselves as a reliable source for all customers' requirements. Our expertise in this field allows us to offer competitive pricing for all our products and services.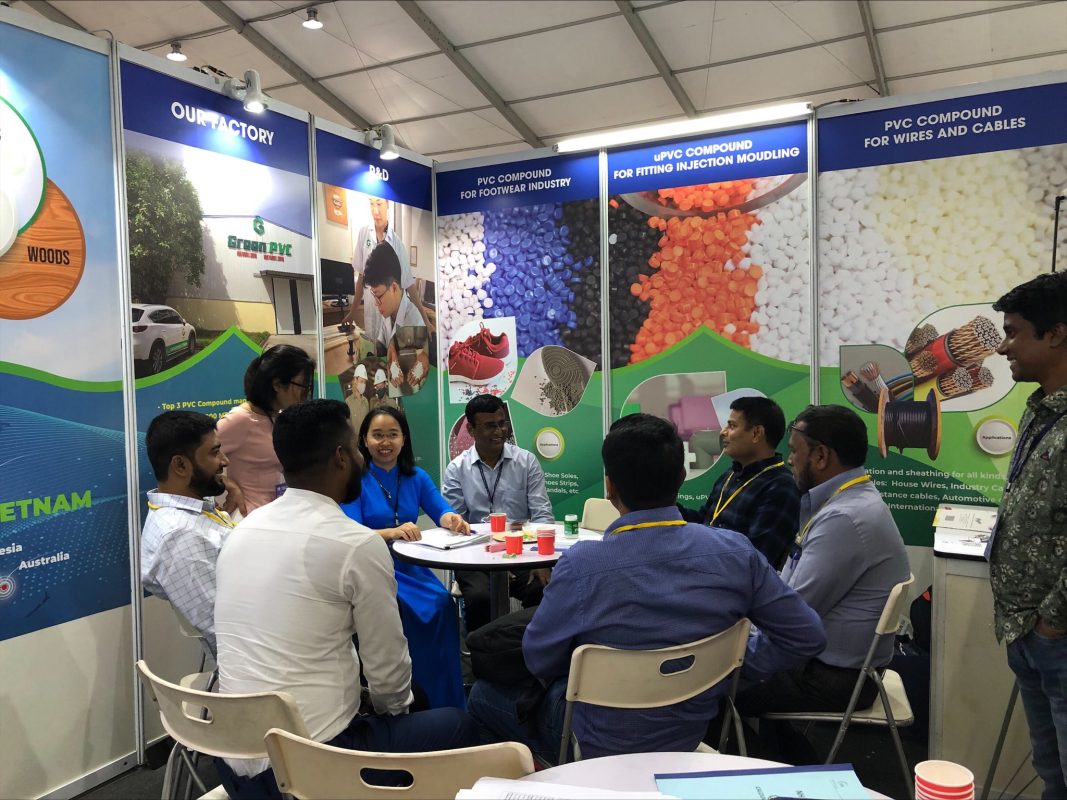 We have many years of experience exporting PVC Compounds to Bangladesh, and we can confidentially assure you that your order will be delivered on time and in perfect condition. We've recently acquired the distribution rights with an overseas company, which allows us to offer our products at the best competitive price possible. Our PVC Compounds are widely used in various applications such as pipe fittings, cable & wire, and shoes sole. In recognition of all customers who have chosen our services and trusted us with their business, we have launched attractive promotions – don't miss out!
PIPE FITTING APPLICATIONS
Green PVC JSC – a member of Nhat Huy Group – is one of the leading manufacturers of PVC compound material, which has good performance in PVC pipe & fittings, PVC Ball Valves, etc.
* The price: ONLY FROM $1000/MT CIF CHITTAGONG
* Customers: more than 50 countries in the world, including a wide range of customers in Bangladesh: Kohinoor Manufacturing Company, Fuji PVC Pipe & Plastic, PLC Plastics, Gazi Pipe, etc
CABLE & WIRE APPLICATIONS
Green PVC manufactures a standard range of PVC cable compounds, but if you are looking to find a solution for a specialty application, Green PVC's experience, not only in PVC cable compounds but PVC as a whole, can help to create a bespoke PVC cable compound for your specific requirements.
Our PVC Compounds can be Formulated for use in a wide variety of Cable applications: Access Control Cable, Alarm Cable, Automotive Cable, Building Wire, CATV Cable… We can customize all properties and colors as customer's requirements.
The price: ONLY FROM $850/MT CIF CHITTAGONG
Customer: More than 50 countries in the world, including Nexans Group in Qatar, Nigeria, Ghana, etc
Certifications:
ISO 9001-2015 & ISO 14001-2015
SHOE SOLE APPLICATIONS
GREEN PVC offers excellent quality PVC Compound granules to produce footwear and shoe soles. Specific applications from our PVC compound include shoes, shoes, and sports shoes and boots soles.
* The price: ONLY FROM $1190/MT CIF CHITTAGONG
* Customers: more than 50 countries in the world
Established in 2014, Green PVC is proud to be a member of Nhat Huy Group with long years of experience in manufacturing and exporting PVC Compounds internationally.
At Green PVC, we specialize in sourcing the best PVC Compounds at an affordable cost with optimal performance. Reach out to us today and take advantage of our special offers. Our team will support you every step of the way.